Regular price
Sale price
£15.99 GBP
Unit price
per
Sale
Sold out
Share
You Design Your Bracelet And We Make It For You!
This is our collection for you, inspired by you! Infact you are the designers!
This is your opportunity to create a meaningful and sentimental piece that is unique and special to you or a someone you love.

All you have to do is go through the options to choose what you'd like on your jewellery. If there's anything specific you we're hoping for, let us know in the "anything else" text box at the bottom and I will do my best to make everything.

When it comes to choosing charms, there's different types to choose from. You can choose up to 8 charms for your jewellery.

You select all your charms under the "add charms" section. If you want any birthstone, zodiac or initial charms, select them here, and there's places text boxes below to specify which particular sign, initial or month you'd like.
View full details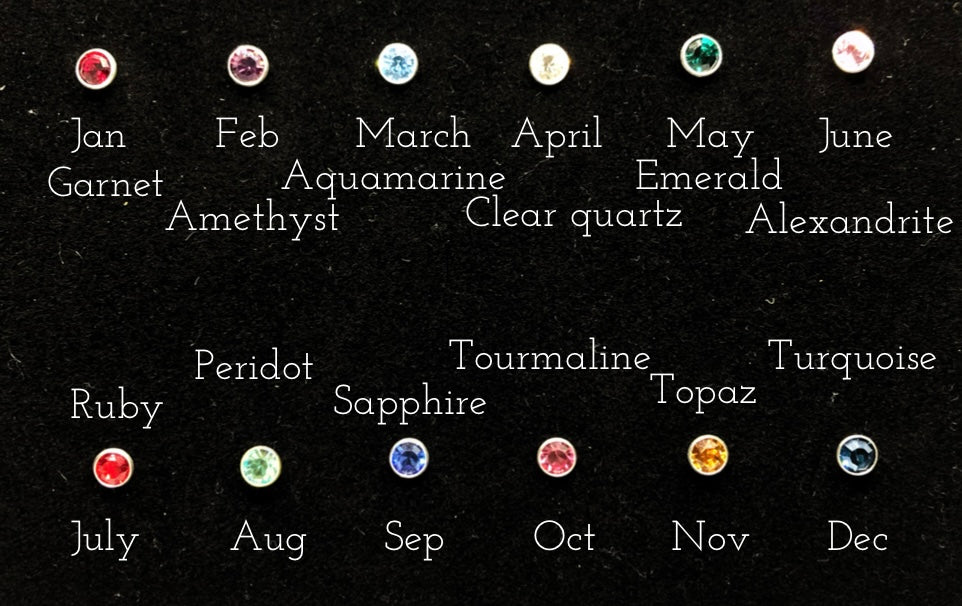 We pride ourselves on being an eco friendly small business. We use the best materials we can to make the best jewellery for you.
However we keep our prices as low as we possibly can so we can give you luxury on a budget. Want to see more of our range? Click here to see all our collections

All our packaging is recyclable or biodegradable and we try to make opening your parcel an experience. There is no pricing in the parcel so they are also perfect to send directly as a gift.
We're based in North Yorkshire so you can often find us at local artisan markets too. When I say we, I mean me. My names Charlotte and I would like to say thank you for supporting me and my dream! Find us on social media - click here
Collapsible content
Shipping, Returns and Warranty

Shipping

All of our jewellery is completely handmade and we aim to make and ship your orders within 1-5 days depending on demand. 



We ship our parcels with Royal Mail and we offer free second class signed for postage. You can upgrade your shipping to first class or 24 hour or 48 hour tracked. If you do pay the difference for faster shipping, we will aim to get your order out quickly, around 1-3 days. You can email us if your in an emergency and need your order quickly and we will do our best to accommodate.

All of the orders are sent with tracking information.

Please ensure you enter the correct sending address before you confirm the order. If entered wrong, please let is know within 12 hours and we can try to change the address. Likewise if you need to change any items in your order contact us within 12 hours amd we will do our best.

Returns

If when you receive your jewellery or any extras and there is any problems at all you should contact us by using any of the contact information available on the contact us page . 
I am human so mistakes will be made at some point or another so we will do our very best to resolve any issues as quickly as possible for you.

if there is a fault with your jewellery on arrival you are more than welcome to return it (we will send you a postage label) in exchange for a full refund or a replacement…it's up to you. This is if the jewellery has been unworn and you must contact us within 30 days of purchase. We may also need proof of the condition and the order must be returned in the way you received it  

 

Exchanges and Cancellations 

You can cancel or make changes to your order for up to 12 hours after the order was placed. Due to our very quick turnaround we will do our best to accommodate changes for you but if the order has already been fufilled or posted this wouldn't be possible. If this is a problem you can  always return the order once it has arrived with you (postage not covered by us) and we will make the relevant changes and post it back to you again, or send a refund if you request a cancellation.

If you have any queries regarding our policies or have a problem with your order, please don't hesitate to contact us and we will help you as much as we can.

Warranty

 With any purchase of our jewellery, either online or at a live event/market, it will come with a 6 month warranty. If any damage occurs to the jewellery due to its manufacture (basically not your fault) we will offer free repairs or send a replacement item. After the 6 month mark, we will still be able to repair but for a small fee. Get in touch with us if you have any problems and we will do our best to help.

To help prevent any unwanted damage, we suggest you follow the guidance included in your order about how to care for your jewellery. If you have misplaced the leaflet, you can find all the information under "our jewellery" at the top of the page.